Please read below.
Access our semester flyer here. If you wish to do the payment plan option, please register here instead.
🤔Not sure if this is the right class for you?
Sit in on the first session and if you change your mind, we offer a full refund! That's how confident we are that you will find our program beneficial. Low commitment and comprehensive!

Class Description
Welcome to the highly anticipated second phase of our foundational program, specially crafted for both new Muslims and inquisitive non-Muslims eager to unlock the finer details of Islamic beliefs and practices. Delve into the heart of Islamic faith, rituals, spirituality, and character development.
Questions and discussions are highly encouraged throughout the class so students feel welcomed and are able to fully grasp the material. 
Those who complete both Part I and II will receive a graduation certificate to attest to their understanding and satisfactory attendance of the program
Topics discussed in this coming semester:

Session 1: Fasting, Zakat, Hajj, and Important Historical Figures
Session 2: Marriage and Friends & Family
Session 3: Manners, Social Interactions, Money Matters, Clothing, and Food
Session 4: Dealing with Controversy and Review
Watch clips of previous classes:
🎁A Gift from MECCA to You ($60 Value)
All registered students will receive a one-time gifted bookbag from M.E.C.C.A. full of essentials such as Islamic books, prayer rug, prayer book, kufi (male prayer cap), and istinja (self-purification) bottle. Delivery will occur towards the end of the semester.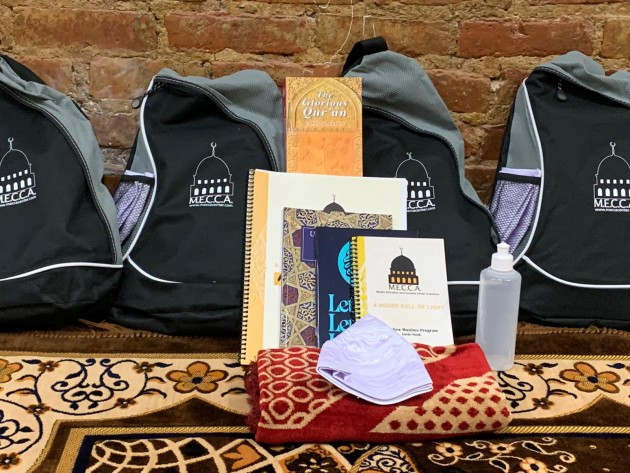 Instructor and Timing
Class will be instructed by Ustadh Tariq Ameer and will be held on Saturdays from 10am to 12pm EDT weekly from November 11 to December 9 (no classes on Nov 25). Instructor Bio: https://meccacenter.com/ustadh-tariq-ameer/
Prerequisite
None required. 
Recording
Each session will be recorded on Zoom. Links to access the recordings will be sent to all via email. 
Payment Options
Please note that the registration fee covers all sessions of the class.
Early registration fee of $40 extended until November 4.
Regular registration fee of $50 from November 5 and thereon.
Financial aid and payment plan options are also provided. Please note that, if approved, financial aid will cover the entire cost of the class and can only be applied towards only one class per semester per student. With a payment plan, the registration fee will be broken down into installments to be paid on different dates to ease the financial burden on the student.
If you wish to apply for financial aid, please select the option, "Financial Aid" and complete the registration process.
If you wish to do the payment plan option, please register here instead.
Once complete, our registration team will contact you via email for the next steps.
Have further questions or encountering technical difficulties? Please email us at registration@meccacenter.com.